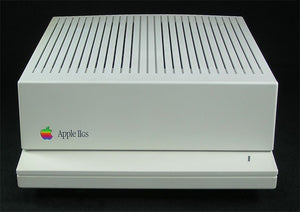 The Modern Apple IIGS Computer
Sale price Price $1,000.00 Regular price
This Modern Apple IIGS System includes a fully functioning and tested Apple IIGS, ready to go out of the box.  Included:

Apple IIGS Computer

Restored case (Retrobright method)

Two Apple OEM 5 1/4 inch floppy disk drives

HDMI Video port (to connect to any standard HDMI monitor.  Monitor not included)

256KB of memory

Memory expansion card 

Ethernet card  (Uthernet II)

ROM 1 Motherboard or later

Free Software

Apple DOS 3.3 on a new floppy disk

Apple ProDos 2.4.1 on a new floppy disk

ADP Pro Software

8 floppy disks of software to get you started

5 blank floppy disks 

The New Apple II Users Guide  (over 700 pages)

90 day warranty

Options:

Virtual Hard desk based upon flash or USB memory stick (CFFA3000 card with 128MB of memory).  Limited availability.